Angel Talk Tuesday, March 24th, 7pm CST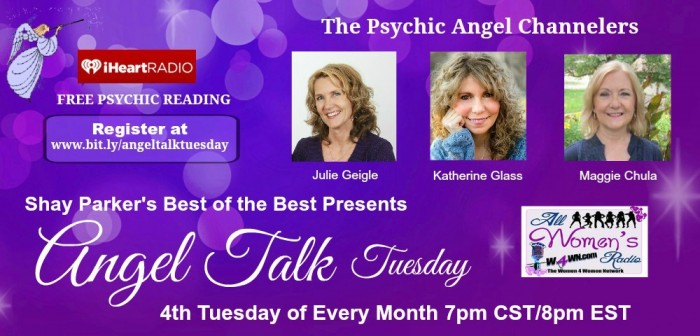 Join the Psychic Angel Channelers for Angel wisdom designed to teach us how to stay positive amidst a world full of chaos and turmoil knowing that you can shine your LIGHT even in the darkest of times.
Register for a free Psychic Reading at >>http://bit.ly/angeltalktuesday
What would it mean to be able to talk to Angels?
How would that change your life?
On the fourth Tuesday of every month, please join International Psychic Medium & Gifted Channel of Archangel Metatron, Julie Geigle as she guest hosts Best of the Best with "Angel Talk Tuesday."
Join Julie and her team of Psychic Angel Channelers, Katherine Glass and Maggie Chula as they directly communicate with the Angelic realm through trance channeling. "Angel Talk Tuesday"
will help you awaken, expand and remember the magnificent being that you are.
Registered participants and members will be randomly selected for a free reading at the end of the show. Be sure to register at >>http://bit.ly/angeltalktuesday
Julie Geigle is an International Psychic Medium & Certified Guide for The Casa, assisting people on a spiritual healing journey through the John of God experience in Brazil.
Julie is heading out for her ANNUAL  "John of God Spiritual Transformation Healing Retreat"  April 7th-18th or join us for a 1 week INTENSIVE April 13th-18th.

Can't come to Brazil?

Sign up for John of God DISTANCE HEALING >>http://bit.ly/jogphotohealing
You can learn more about the Psychic Angel Channelers at:
Julie Geigle, Psychic Medium & Archangel Metatron Channel http://www.juliegeigle.com
Katherine Glass, Psychic Medium & Spiritual Healer http://www.katherineglass.com
Maggie Chula, Gifted Psychic & Spiritual Counselor http://www.maggiechula.com